Kaleo (the Greek word for "called ones") is the term used to describe the adult urban youth leaders who bring campers to KAA.
Some 1,000 plus Kaleos from over 30 states escape from their busy worlds to attend camp for an exciting 7-day session during the summer. These individuals consist of pastors, teachers, youth workers, administrators, and volunteers who love kids.
The Kaleo ministry is designed as a camp within a camp, operating most of the time on a separate schedule apart from the campers' activities. Kaleos enjoy many of the same exciting opportunities and entertaining programs as the campers, but spend most of their time with other Kaleos participating in a variety of scheduled camp activities. This schedule includes men's and women's Bible studies, seminars and urban training, boating, swimming, high elements, evening programs, and plenty of time to enjoy the beautiful Ozarks at our 240-acre facility.
The uniqueness of the Kaleo ministry is the opportunity for fellow urban youth workers and volunteers from across the country to come together, be trained, fellowship, relax, exchange ideas, play, and build lifelong friendships. All shared in an environment centered around encouraging, equipping, and empowering them to carry on their vital work of impacting our nation's cities for Jesus Christ.
Kaleo Directors
"Soup" Campbell
Roy A. Campbell, better known as "Soup," graduated from Memphis State with a degree in Education. He has been a Youth Director, Pastor, and founder of Eikon Ministries in the Binghampton neighborhood of Memphis, TN. He was the Director of KAA's Higher ground from 1998-2003, and now works part time as the Director of KAA's ministry to urban mentors--the Kaleos.
Linda Campbell
Linda Campbell graduated from Memphis State with a degree in education. She and Soup have been married for almost 40 years and have 4 children. She serves as the Co-Director of the Kaleo Program.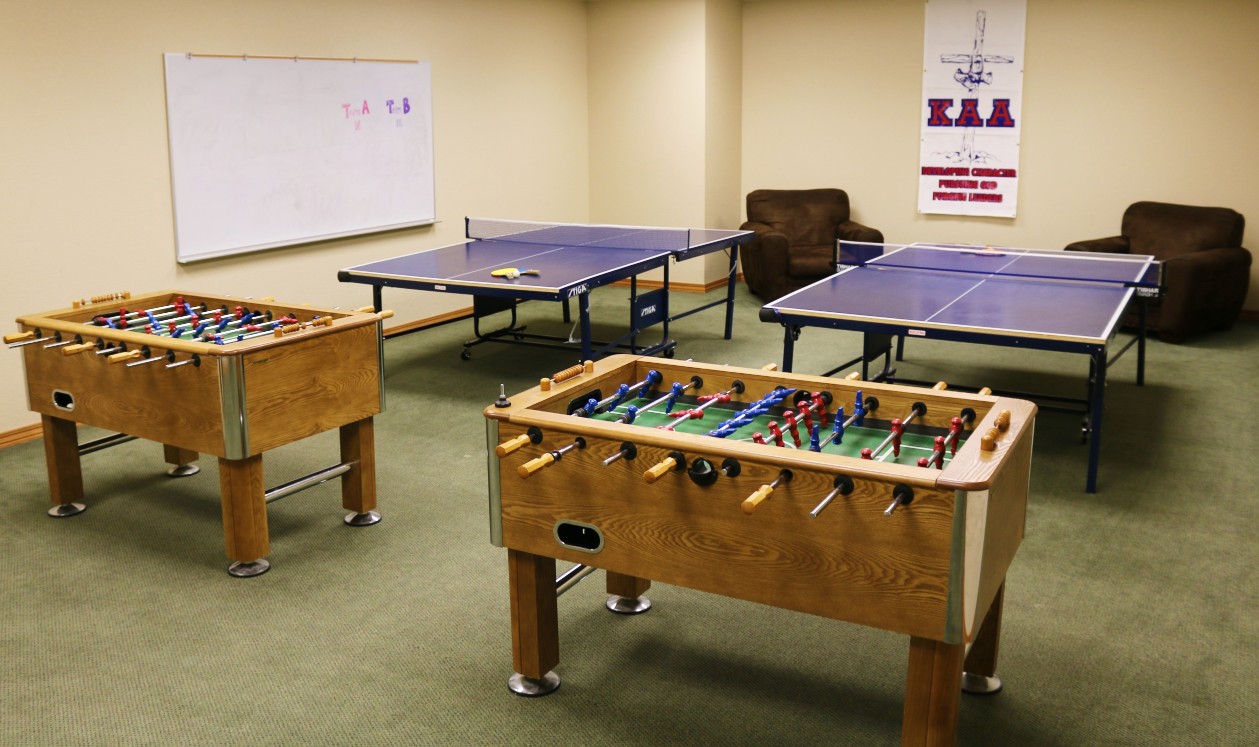 The KAA facilities for Kaleos ensure a relaxing and renewing time at camp. Kaleo housing is available at KAA 1, KAA 2 and KAA 3 in single-sex cabins, each with multiple showers and toilets. Kaleos enjoy meals at their respective camp dining halls. Many of the Kaleo activities, including morning worship, clinics, meetings, and free-time take place in the state-of-the-art Payne Stewart Memorial Building. Additionally, Kaleos may utilize recreational facilities, including the High Adventure Course, Zip Lining Course and boats at the KAA camps.
Cabins designated at each camp (single-sex accommodations)
Dining at designated camp dining hall
Meeting/worship space at Payne Stewart Memorial Building
Bible Resource Center at Payne Stewart Memorial Building
Fellowship Room/Lounge at Payne Stewart Memorial Building
Prayer Room at Payne Stewart Memorial Building
Game room at Payne Stewart Memorial Building
Swimming Pool at Payne Stewart Memorial Building
Golf practice facility with driving range and putting green
Sand Volleyball Court at Payne Stewart Memorial Building
KAA Discount Store at Payne Stewart Memorial Building
Activities such as ziplining, boat rides/tubing, and High Adventure Course may be arranged at KAA camps
2020 Camp Dates
Session 1: May 31 – June 6
Session 2: June 7 – June 13
Session 3: June 14 – June 20
Session 4: June 21 – June 27
Session 5: June 28 – July 4
Session 6: July 5 – July 11
Session 7: July 12 – July 18
Session 8: July 19 – July 25
Session 9: July 26 – Aug 1
All camps begin on Sunday and ends on Saturday.
At KAA we are excited for the opportunity for you to join us August 20-23, 2020 for our REFRESH Adult Kamp for ages 20 and above. Whether you are a Group leader, Kaleo, Parent, Past Staff or just an adult that would like to visit KAA this Retreat is for you. You will get to spend three days on our camp grounds participating in various activities such as tubing, high ropes course, swimming and more. You also get to stay in the cabins so that you get the ultimate camp experience. Register before May 15 at $50. After May 15 is $75. After June 30 is $100.
We can't wait to see you there! For more information please call the registration department at 417-266-4000.
Soup and Linda Campbell bring a team of trainers to share tools and resources, which will equip leaders in the areas of personal growth and strategies on discipling others.
Saturday | Unpack the KAA Tool Kit | 9am to 4pm | Lunch | $15
Seminars and training on resources and tools for discipling youth, marriage and personal growth. We will also have a session on disciple-making to reinforce topics that were covered this past summer. Please join us to get the needed resources for your own TOOL KIT. We know that good tools and the right tools are key components for being efficient in personal development and the development of others.